• News
The last quarter is always the busiest!  With the holidays coming, we are looking forward for family gatherings and gift giving of course!  Here is the deal we are offering a SALE.  Now is the best time to buy more for yourselves and for your family and friends, all the items that you love ----to show your passion. Buy any item for a total of USD 85 and more and get 25% discount from the total purchase amount. Please put the discount code: BUY85LESS25 upon check out to avail the discount. Happy shopping!
---
• News
Will you do something to make your mother happy?  I guess and hope that many will answer yes to this question.  With or without Mother's Day Celebration, all of us are longing to make our mother happy for the rest of her life.  There are many ways to make our mother happy---from simple gestures to the grandest we can think of and list is endless. Each mother is unique, individually as a person and much more her mothering skills to her every child.  I always knew that my mother is beautiful, special and kind, but I just realized how hard...
---
• How-To's
Finally, you have found phone wallets that resonate your love for sewing!  Here is the video instruction on how to install your phone to your phone wallet.   If you need additional information or if you encountered other problems, please feel free to message us
---
• Design Tips • How-To's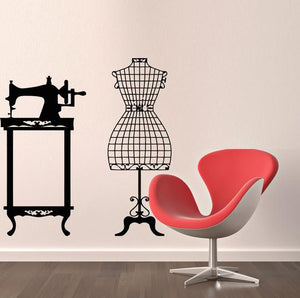 A sewing room is a functional working space where most sewers spent their time doing their beloved projects.  Mostly it is a busy space full of machines, tools, materials, notions and fabrics.
Here are some of the decorations that may be added to make the sewing room more inspiring and organized.
---
• News

After much sleepless nights of planning, sourcing, pricing, and more, it is time to launch.